There are two easy ways to skip a delivery from within your Marley Spoon account.
You can either skip the order individually by clicking on "Orders", then underneath the individual order that you would like to skip, click "skip order" then follow the prompts to save your selection.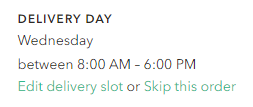 Alternatively, to skip multiple deliveries head to the "Settings" tab and click on "Edit delivery days".

You can toggle dates on and off up to 8 weeks in advance, and 6-7 days prior to your delivery day, depending on your state.
Please always remember to scroll down and click "Save Changes" or any changes will not be applied.